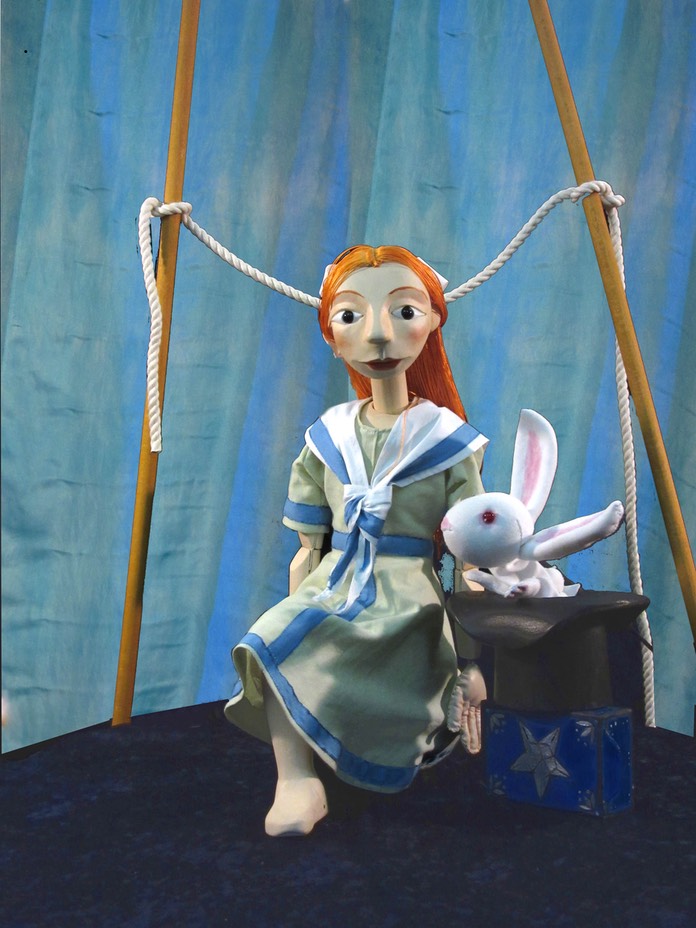 'Seiltänzerin'
Wild Theatre (NZ/Austria/Croatia) 
Puppet Theater for 4 years and up
A long, long time ago, in far away Aotearoa/New Zealand, lived a girl called Jenny. When Jenny was only four years old, she visited a circus with her father, and from this day on she dreamt of becoming a circus star! She never gave up and many years later, as a young woman, she left her home and went on the road to fulfill her dream. She joined a travelling circus as a tightrope walker and a magician, and her name appeared on posters throughout the land. One day, as the circus wagons crossed the Waitaki River, Jenny's story vanished from history. Until today....
Rebekah Wild, a puppeteer from New
Zealand, takes over Jenny's story in her
new production 'The Seiltänzerin".
Starting from the first circus performance
that Jenny saw as a child, the show encourages children, especially girls, to be courageous and to dream impossible dreams. In a story told with carved wooden puppets, Rebekah intwines elements of her own life of travelling around the world and back again. In the spirit of theatrical retelling, elements of the real Jenny's life are mixed with twists of pure fantasy. Performed with minimal text by Rebekah Wild and Nenè Lazaric, with music especially composed by Hannah Marshall - producing a magnetic poetry which carries Jenny's story into your heart..
Team:
Concept/Puppets/Performance: Rebekah Wild 
Regie: Steve Tiplady
Performance/Puppets: Nenè Lazaric 
Puppet design : Lyndie Wright 
Soundtrack: Hannah Marshall
The show is designed for touring, and is available for theatres, festivals, schools and kindergartens. It is offered in German, English, Croatian (b/k/s) Italian and Spanish. 
Many thanks to: Andreas Moritz, Karoline Hogl, Nele de Craeker, Michael Raab, Barbara Kriegl, Sabine Luger, Christopher Stone, Gerd Andrä, Friends, Natascha Nouak, brut, James Reilly, Annie Forbes.
"In cooperation with Figurentheater LILARUM"